For the first time since the start of the COVID-19 pandemic, student literature evangelists spent 10 weeks this summer sharing their faith and spreading God's word through Christ-centered literature in the diverse Southern California Conference (SCC) territory.
"I can't believe this happened this year," shared Marco Topete, SCC Literature Ministries coordinator. "This is the first time going door-to-door with our missionaries since 2019, and it was an incredible experience." 
Still, the team faced hardships unique to this summer early on, such as low recruitment despite many invitations given.
"I told myself that no matter how many God gave me this summer, I would do the work that needed to be done in our territory," Topete said. "God worked miracles not only in the community but, more importantly, in our own hearts as we struggled."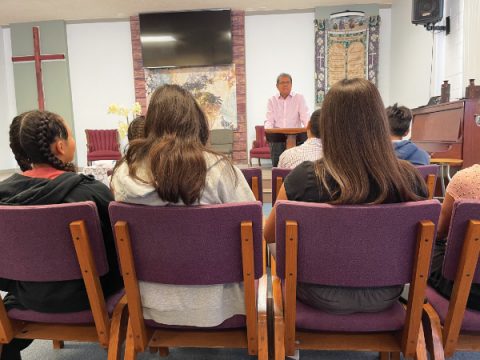 Tierra was canvassing people in a business when the owner asked her to wait to speak to him until after his meeting. While waiting, several employees suggested she leave since the owner seemed unlikely to finish soon. Troubled, but not discouraged, Tierra was impressed to continue waiting. Finally, the owner finished his meeting and invited her to speak with him. As soon as she showed him the first book, he was interested. He asked to see all her books and ultimately received a "dump bag," the term for when a student empties their bag at one door. 
Princess and Sammy were meeting people at shops in East Los Angeles. When they entered a business, they saw a husband and wife behind the counter. The first book they shared was called Peace Above the Storm. As soon as the woman saw the book she exclaimed, "How did you know!" She couldn't believe God sent these two canvassers to her in a time of deep need and was grateful for their visit.
"God did wonderful things this summer," Topete shared, "but my personal favorite has to be what God did in each of these missionaries. So many stories in the community, but so many hearts changed at home base as well. God is a miracle-working God."
___________________
By Araya Moss