Storm Cannot Thwart Ministry
By Ariana Rayburn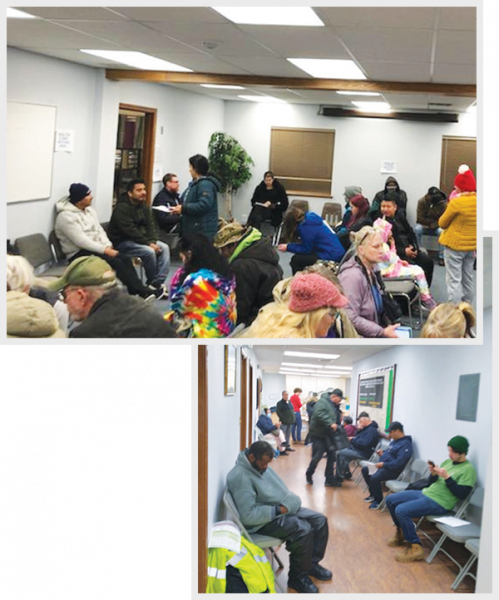 Three churches united in engaging their community with compassion by sponsoring a free health clinic in February. The Fortuna, Eureka, and McKinleyville churches organized the event in partnership with NCC Health Ministries and the Life & Health Network (LHN), which supplied dental equipment and materials.
On the first day of the clinic, the community was hit by snow, causing problems for travel and making it impossible to offer vision services. However, over 150 enthusiastic volunteers braved the weather to provide dental care and other medical services.
The clinic was so popular it reached its capacity of dental patients before 10 a.m. One volunteer stated, "An event of this kind was new in our community, and the need was much greater than we expected." Dr. Ruben Brinckhaus, a volunteer, was impressed by the event's success and hoped to make it a regular occurrence because it highlighted the need for care within the community. Brinckhaus said, "Everybody was blessed—volunteers, patients, and the community."
---
Baptism and Bible Studies Pivot Prayer Meeting
By Larry Siemens
From March 17 to 25, the Shasta Lake Bible Fellowship held a revival seminar called "All About Jesus." The seminar featured a 13-part series by
Gary and Marilynn Venden, and attendance grew from 50 people on the first night to 100 on the final weekend. Attendees were inspired by the message. One attendee exclaimed, "We discovered that Jesus is enough to ensure our winning in the race of life."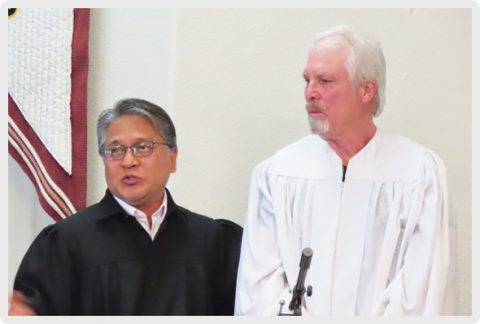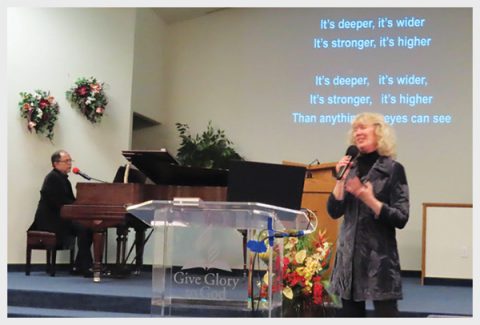 The seminar had a significant impact—Ronald Yabut, district pastor, baptized one person on the final Sabbath and several others requested Bible studies. As a result, the Wednesday night prayer meetings will be transformed into an "All About Jesus" small group, aiming to continue growth.
---
Pathfinders Pedal 7,000 Miles
By Ken Miller
On April 2, a group of Northern California Pathfinders came together at the base of Sierra Buttes mountains for a cycling event. Eddie Heinrich, Pathfinder and youth ministry director, was thrilled with how the day turned out.
Despite a harsh winter, the weather was perfect that day, with sunshine and ideal temperatures. One hundred ninety riders participated in the event, wearing helmets and riding bicycles to raise funds for their clubs.
The course was a straight one-mile road up and back, divided in the middle, allowing riders to take their time, cruise, or speed up. One rider set a record for the day by completing 53 laps, equivalent to 106 miles.
In addition to the riders, around 200 other attendees, including parents, leaders, and cooks, provided delicious treats such as corn dogs, cotton candy, pupusas, and potato tacos. Benji Ferguson, the associate pastor of the Carmichael church, commented that he had attended many bike-a-thons before, but this one had the best food court.
Eddie Heinrich proudly announced that the Pathfinders collectively rode more than 7,000 miles to support their cause.
---
Member Demonstrates a Servant's Heart and Passionate Hard Work for God
By Laurie Trujillo
From March 16-18, the St. Helena church hosted a revival weekend focused on hope for a post-covid world. The event was organized by Josue Rosado, who worked tirelessly to make this event happen, Rosado stated, "Connecting people to God and the church is important. I have seen my church decline and knew I had to do something. People need to know Jesus loves them because it makes a difference in their lives."
The Holy Spirit moved through the community, and over 180 people attended the two-day series by Jose Rojas. Topics such as battling a lack of hope, depression, and discouragement were met head-on. One couple remarked, "This was a message we needed to hear in our community." Another attendee said, "Our hope in Jesus' presence and power was renewed, and the message encouraged us to stay connected with Jesus."
The church secretary, Melanie Ward, expressed her joy in seeing the church so full again, and she felt the Holy Spirit's presence during the event. "Many attendees were deeply moved and stayed long after the meeting ended," she reported. "Many attendees expressed this is just what the community needed to hear."
---
Mark Blue Series Promotes Clarity, Leadership, and Teamwork
By Ken Miller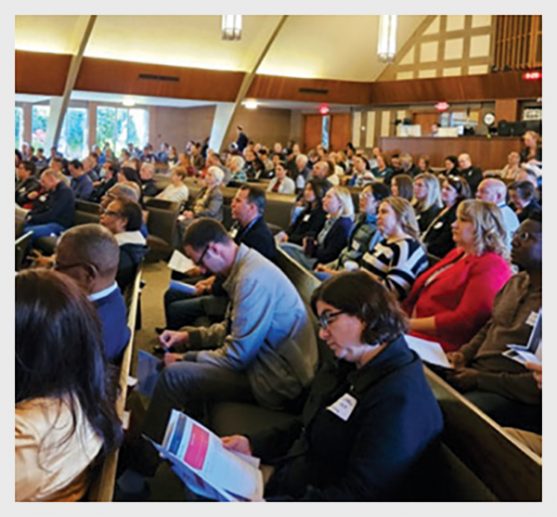 On April 3, NCC principals, pastors, and members of the respective leadership teams gathered at Carmichael church for the Mark Blue Lecture Series. The purpose of this annual
in-service is to encourage teamwork and collaboration between churches and schools. This year's focus was on creating effective leadership teams. The event included presentations and breakout sessions during which each team learned and practiced techniques for building trust, managing conflict, and staying focused on our purpose during meetings.
Michelle Piner, the registrar at Sacramento Academy, stated that the seminar provided valuable lessons and training that helped the administrative team to effectively address an issue by breaking it down to its core.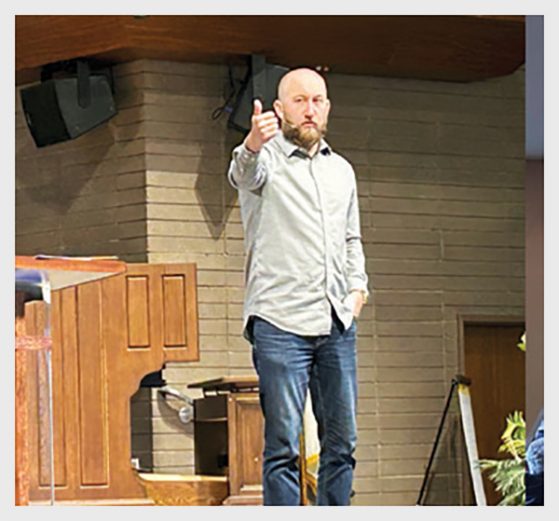 Diona Wheeler, a teacher at Yreka, stated, "Our Yreka team practices about 90 percent of the methods I saw today, but it was very eye-opening and helpful to see and learn a framework in which we can tackle each issue methodically."
"The material and system provided us with a great foundation for building more effective churches and schools," said Steve Brownell, the pastor of Oroville church. He added that he hopes to continue learning and being trained to become a better steward in the community.
At the end of the day, President Mark Woodson shared that all the ideas presented were "put into action" by the conference leadership team over the past two years. He mentioned that the tools shared would help teams be more effective even though the "journey may have bumps and bruises." He encouraged everyone to implement these ideas in their church or school and assured them that positive results would follow.