All God's People | March 2021 | By Julie Lorenz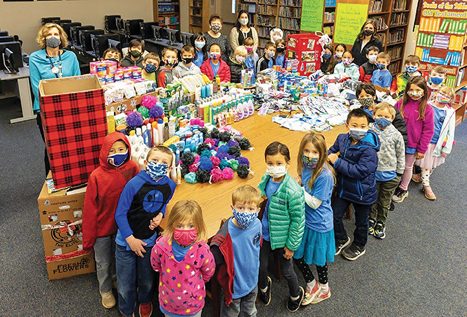 Grades 5-8 (Photos: Wayne Schoonover)
When the Placerville church women's ministry group invited students from El Dorado Adventist School (EAS) and the Camino church women's ministry group to participate in a service project, they didn't expect the overwhelming response.
Together, the women's ministries and the school community collected more than 1,500 items—including toiletries and clothing staples—for the Native American students at Holbrook Indian School (HIS) and Chinle SDA School, both located in Arizona. The items filled 11 large shipping boxes. "I was in shock!" said Daisy Stephens, Placerville women's ministry leader.
Months earlier, Teresa Contreras, a retired social worker on the Placerville women's ministry council, had grown increasingly concerned as she read about the terrible impact of COVID-19 on the Navajo Nation. Previously, she had lived and worked with Native Americans, and she wanted the women's ministry to reach out to them. "Knowing the Holbrook Indian School serves a large number of Navajo children off the reservation, and on the reservation via their elementary school in Chinle, I thought we should look into helping via HIS," she said.
Contreras contacted HIS to find out what they needed. Her commitment and passion inspired the Placerville women. "She gave all of us the fire to follow her lead," said Stephens.
At the beginning of this school year, their group donated 340 hand-sewn masks to the Arizona schools. More recently, they purchased 79 blankets for the students. "We never asked one person for a dime," said Stephens. "They just came to us and said, 'We want to do something for Holbrook.'"
To introduce the joint service project, Contreras gave several chapel presentations at EAS. She told the students about Adrian, an HIS student who had been reluctant to attend his school but has now graduated and gone on to college. She invited the EAS kids to help empower their fellow students at HIS by donating supplies for their daily lives.
They reacted enthusiastically—and they were excited to see the response of their school and church communities. "I really wanted to help," said kindergartner Parker Gatling. "I was really surprised that there was so much stuff!"
"I knew I wanted to help after I heard the story about the boy who didn't want to go to HIS," said sixth-grader Riley Easterbrook. "I was glad to see that everyone really cared about the students."