By Elsie Frisbee and Norma Galiza | December 2019
Hawaii Conference's Women's Ministries has been abuzz with several outreach activities during 2019—not to mention the various WM activities going on in our local churches.
The year began with training for Hawaii Women's Ministries leaders during the first weekend of March. Dorothy Means, Pacific Union Conference's Women's Ministries director, and Linda Poellnitz trained over 20 women in the areas of leadership and evangelism. Women's Ministries International Day of Prayer took place during this event, and it was celebrated that weekend at the Honolulu Central Church. Means was the special guest speaker for the Women's Ministries International Day of Prayer church services.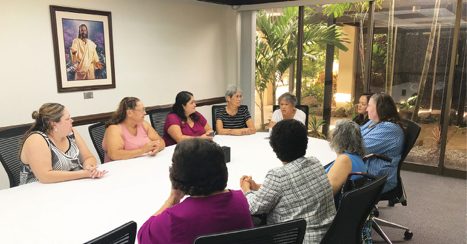 Women's ministries members lift each other up in fellowship and prayer.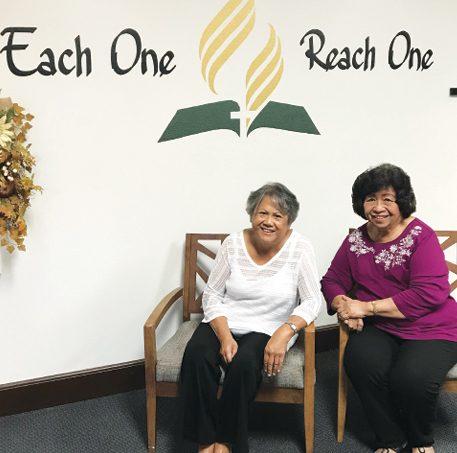 Kaneohe church Women's Ministries Director Elsie Frisbee and Hawaii Conference Women's Ministries Director Norma Galiza.
A couple of weeks later, this special training session segued into a Women's Ministries evangelistic effort hosted by the Women's Ministries Committee at Honolulu Central Church. Pursued, a book written by Pastor Lola Moore-Johnson, was the basis for this two-week series, which was entitled "Treasures from the Alabaster Box" and centered on the life of Mary Magdalene. Faithful WM leaders from five local churches and one from Santa Barbara, California, each presented a heart-touching message on various aspects of the life of Mary Magdalene and how she became one of Christ's most loyal followers.
During the final week of the series, we heard from Pastor Jennifer Hernandez, a young woman who was born and raised in Honolulu, Hawaii, and is now the associate pastor of the Plantation church in South Florida. Health talks were also presented by several health professionals, and each night concluded with delicious snacks prepared by several of our health-conscious ladies.
We have just finished a moving Fall Week of Prayer. "The Legendary 'L's of a Samaritan Woman" was presented by guest speaker Elsie Frisbee, Women's Ministries Leader for Kaneohe church. In her special presentation, we learned how Jesus gently revealed what He knew about the Samaritan woman. Though taken by surprise, this woman learned to listen, and she discovered that she could drink living water and never thirst again. By listening, she learned that there was no secret in her life that the Lord did not know. With love, she rushed to tell her community about the One who knew of her sins but did not condemn her. Rather, He offered forgiveness and the promise of eternal life. By drinking this living water, she was freed from condemnation and began to live.
Our 2019 Fall Week of Prayer was concluded with a sumptuous prayer breakfast on Sunday morning, crowned with a special message from our speaker. During the years of His ministry here on earth, Jesus drew people to Him so they too could drink of the living water of eternal life, freely given to all who love Him and follow in His footsteps.
The goal of Women's Ministries is to share the good news that we too can be freed from our heavy burdens by giving them to Jesus as we listen, learn, love, and live.