By Ray Tetz | August 2020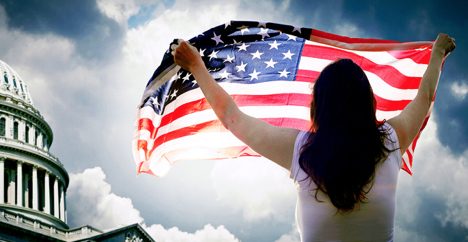 Women's Equality Day is celebrated in the United States on August 26 to commemorate the 1920 adoption of the 19th Amendment to the United States Constitution, which prohibits the states and the federal government from denying the right to vote to citizens of the United States on the basis of sex.
In celebration of the 100th anniversary of the passage of the 19th Amendment, listed below are the names of 50 American women—all born before the year 1900—who were dedicated to the cause of equality and justice.
These women were daughters, sisters, wives, and mothers. Authors, educators, activists, and organizers. Some were born into privilege; some were born into slavery. Many of these were women of faith.
Across the decades of struggle that eventually led to the passage of the 19th Amendment, these women were among those who supported racial justice, the temperance movement to control the impact of alcohol, human rights, and the labor movement. While working together to secure the vote, women also helped define American democracy and the meaning of citizenship—and our lives.
Through their lives and work they asked the hard questions about class inequity, racial injustice, and the plight of the poor. And they did not give up. Their faith in God, their belief in the potential of humanity to grow and be transformed, and their commitment to the ideals of equality and freedom fueled the engines of change. Many of the ways in which we live our lives today are because of their vision and persistence.
In 1776, Abigail Adams, wife of John Adams, who would eventually become the second president of the United States, was in Braintree, Massachusetts, raising their four children, living in a war zone, and doing everything she could to protect her family from a smallpox epidemic that was ravaging the countryside. In the midst of a busy and difficult life, she sent a letter to her husband, urging him and the other (male) leaders to be mindful of the needs of the women of the fledgling nation. "Remember the Ladies, and be more generous and favourable to them than your ancestors," she wrote.
As we celebrate the 100th anniversary of the 19th Amendment guaranteeing women's right to vote, we also "Remember the Ladies," and honor them for the vision and inspiration that has so powerfully shaped American life.
1. Abigail Smith Adams (b. 1744) Early advocate for women's rights; confidant and advisor to her husband John Adams, the nation's second president; opposed slavery and supported women's education.
2. Emma Hart Willard (b. 1787) Educator and pioneer women's rights activist.
3. Sarah Josepha Buell Hale (b. 1788) Writer, activist, and editor.
4. Lucretia Mott (b. 1793) Abolitionist, women's rights activist, and social reformer; co-organizer of the 1848 Seneca Falls Convention.
5. Mary Mason Lyon (b. 1797) Educator and activist; pioneer in women's education who established the institutions that became Wheaton College and Mount Holyoke College.
6. Sojourner Truth (c. 1797) Former slave, famed orator, abolitionist, and women's rights activist.
7. Margaret Fuller (b. 1810) Advocate for women's education, author.
8. Abby Kelley (b. 1811) Opponent of slavery, women's rights activist, one of the first women to voice views in public speeches.
9. Harriet Beecher Stowe (b. 1811) Influential author and activist.
10. Elizabeth Cady Stanton (b. 1815) Social activist, abolitionist, suffragist, organizer of 1848 Women's Rights Convention, co-founder of National Woman Suffrage Association and International Council of Women.
11. Lucy Stone (b. 1818) Orator, one of the initiators of the first National Women's Rights Convention, founder of Woman's Journal, force behind the American Woman Suffrage Association.
12. Amelia Bloomer (b. 1818) Advocate of women's issues, suffragist, publisher and editor of The Lily.
13. Julia Ward Howe (b. 1818) Suffragist, writer, organizer.
14. Susan B. Anthony (b. 1820) Prominent opponent of slavery; played a pivotal role in the 19th-century women's rights movement to introduce women's suffrage into the United States.
15. Isabella Beecher Hooker (b. 1822) Leader, lecturer, and activist in the American suffragist movement.
16. Harriet Tubman (c. 1822) Escaped slave, abolitionist, Underground Railway operative, scout, spy, and activist.
17. Grace Greenwood (b. 1823) First woman reporter on New York Times; advocate of social reform and women's rights.
18. Antoinette Brown Blackwell (b. 1825) Co-founded American Woman Suffrage Association.
19. Frances E. W. Harper (b. 1825) Poet, lecturer. As the daughter of free Black parents, she was able to attend school. Author of the influential speech "Education and the Elevation of the Colored Race."
20. Ellen G. White (b. 1827) Visionary author, abolitionist, temperance activist, women's health advocate, religious leader, and organizer.
21. Louisa May Alcott (b. 1832) Author who created colorful, relatable, educated, and strong female heroines, with great influence on American literature.
22. Victoria Woodhull (b. 1838) Suffragist, organizer, first woman to run for U. S. presidency.
23. Frances Willard (b. 1839) Long-time president of the Woman's Christian Temperance Union, which, under her leadership, supported women's suffrage.
24. Helen M. Gougar (b. 1843) Lawyer; temperance and women's rights advocate.
25. Sarah Winnemucca Hopkins (born Thocmentony, c. 1844) Northern Paiute author, Native American activist, and educator.
26. May Wright Sewall (b. 1844) Educator, feminist, president of National Council of Women for the United States, president of the International Council of Women.
27. Anna Howard Shaw (b. 1847) President of National Women's Suffrage Association.
28. Harriot Stanton Blatch (b. 1856) Writer, suffragist, and the daughter of pioneering women's rights activist Elizabeth Cady Stanton.
29. Alice Stone Blackwell (b. 1857) Feminist and journalist; editor of Woman's Journal, a major women's rights publication.
30. Carrie Chapman Catt (b. 1859) Teacher and educator instrumental to the cause that brought equal voting rights to U. S. citizens, spearheading the movement with her ability to organize campaigns, mobilize volunteers, and deliver effective speeches; founder of the League of Women Voters.
31. Jane Addams (b. 1860) Major social activist, reformer, social worker, sociologist, public administrator, and author.
32. Ida B. Wells (b. 1862) Civil rights and anti-lynching activist, journalist, and educator; suffragist noted for refusal to avoid media attention as an African American.
33. Mary Church Terrell (b. 1863) Charter member of the NAACP and an early advocate for civil rights and the suffrage movement.
34. Grace Julian Clarke (b. 1865) Suffragist, journalist, author.
35. Adele Parker (b. 1870) Suffragist, lawyer; owned and operated the Western Woman Voter newspaper; 1934 House Representative 37th District in Washington.
36. Maud Wood Park (b. 1871) Founder of College Equal Suffrage League; first president of League of Women Voters.
37. Rose O'Neill (b. 1874) Illustrator.
38. Zitkála-Šá, also known as Gertrude Simmons Bonnin (b. 1876) Yankton Dakota writer, editor, translator, musician, educator, and activist.
39. Lucy Burns (b. 1879) Suffragist and women's rights activist.
40. Jeannette Pickering Rankin (b. 1880) Congresswoman from Montana and women's rights advocate; the first woman to hold federal office in the United States.
41. Mabel Vernon (b. 1883) Suffragist, member of Congressional Union for Women Suffrage, organizer for Silent Sentinels;
42. Rosalie Gardiner Jones (b. 1883) Suffragist and organizer of the Suffrage Hikes.
43. Alice Paul (b. 1885) One of the leaders of the 1910s Women's Voting Rights Movement for the 19th Amendment, founder of National Woman's Party, author of the proposed Equal Rights Amendment.
44. Inez Milholland (b. 1886) Suffragist, key participant in National Woman's Party and Woman Suffrage Parade of 1913.
45. Helen Valeska Bary (b. 1888) Suffragist, researcher, and social reformer.
46. Eva Kotchever (b. 1891) Activist, suffragist, restaurant owner, assassinated at Auschwitz.
47. Ella Lillian Wall Van Leer (b. 1892) American artist, architect, and women's rights activist.
48. Dorothy Thompson (b. 1893) Buffalo and New York suffragist, journalist, and radio broadcaster.
49. Mabel Ping-Hua Lee (b. 1896) Suffragist, advocate for women's rights and for the Chinese immigrant community.
50. Dorothy Day (b. 1897) Journalist, author, religious leader, social activist.
---
Ray Tetz is the Director of the Communication & Community Engagement Department of the Pacific Union Conference.