All God's People  |  February 7, 2020
Celebrating Black History Month
February is Black History month and you will find themed material about Adventists and Black History in the Pacific Union Recorder, on our social media, and in each episode of All God's People.
Sesquicentennial Anniversary of Landmark Amendment
The year 2020 marks the sesquicentennial, or 150th anniversary, of the ratification of the Fifteenth Amendment in 1870, guaranteeing all male citizens the right to vote regardless of their race. "African-Americans and the Vote" is the national theme for Black History Month this year. Learn more via the link here.
Conejo Adventist Elementary Student Starts Handbell Choir
A student at Conejo Adventist Elementary School (CAES) took on a significant role this year. Riley, an eighth grader at CAES, started up a handbells choir for the 1-and 2-grade class and teaches every week. Riley started playing concert band bells in the fifth grade. According to her teachers, Riley gives each student a high-five and complements them by name at the close of every handbell practice. Learn more about Riley's handbell class via the link here. 
Three Hawaii Schools Take Learning Outside
Unplug, learn, and connect with our Creator. These were the goals that Hawaiian Mission Academy (HMA) schools had in mind last November as principals from three HMA schools planned a re-vamped, three-day Outdoor School focusing on science and physical education. With 115 students in tow, HMA Ka Lama Iki, HMA Windward Campus, and Adventist Malama Elementary School pulled into Camp Wai'anae in Honolulu County, Hawaii on a toasty afternoon with excitement streaming from students and their over-stuffed bags. Camp Wai'anae is traditionally used as a summer camp and weekend get-away—and this school year, the camp gave students a break from the everyday learning routine and brought the classroom outside. Read the whole story in the February Recorder (pg. 26-27) 
Annual Adventist Television Ministries Offering
Tomorrow, Sabbath, February 8, is the Adventist Television Ministries Annual Offering. For the ministries of Breath of Life, Faith For Today, It Is Written, and Jesus 101 – your support means sharing more messages of hope and wholeness through television programs that make a difference.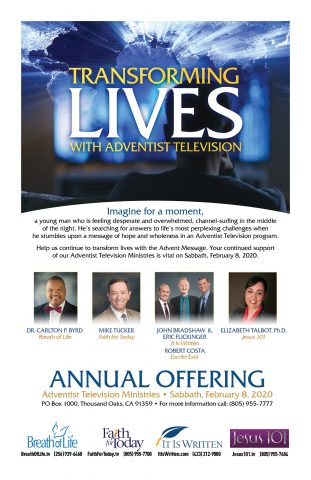 ~ ~ ~
Dr. Martin Luther King, Jr. was fond of this text in Revelation 21:5, and often cited it in his sermons: "Behold, I make all things new." Our hopes are expressed in these words! Hope for our world, our country, for all those who are oppressed—and for our own lives.