Recorder Magazine | By Tricia Murdoch Zmaj | March 1, 2021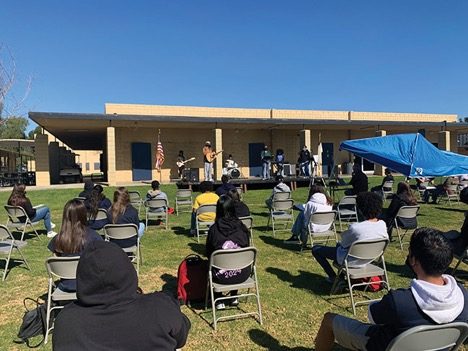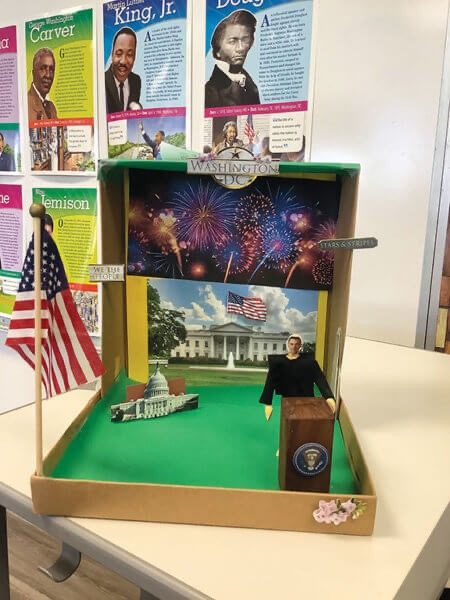 La Sierra students created artwork to celebrate the accomplishments of influential Black Americans.
In honor of this year's Black History Month, La Sierra Academy celebrated the history and accomplishments of the Black community with intentional chapel programs and a unique curriculum.
At each Friday's outdoor chapel service, a pastor invited from one of the constituent churches approached Black history from a different perspective. Pastor Jeremiah Green talked about the "Historic Perspective" and commemorated the contributions of the Black community. Pastor Baron Sovory spoke about the "Present Perspective" and the impact of the Black experience in today's world. Pastor Wade Forde provided a look at "United Within Diversity" and recognized the people and events that have helped to unify our diverse nation. Pastor Eric Penick presented "Future Perspectives," with hope and a vision for a positive future.
Pastor Jeremiah Green composed spoken word poems for the students to read at each chapel program. "To see the kids with so much talent perform these pieces was truly beautiful," said Libett Munoz-Beard, La Sierra Academy principal. "For our campus, worshipping together was very healing."
Glenn Valenzuela, campus chaplain at La Sierra Academy, also noted that the campus was able to consider their perspectives as a school family. "Each pastor blessed our students with a powerful discourse," said Valenzuela. "We were forced to not only listen but to contemplate and consider." Valenzuela also highlighted the praise team composed of predominantly Black students and alumni that led the students in worship every week. "They brought their energy!" Valenzuela said.
Each teacher at La Sierra Academy designed a curriculum that honored Black History Month in one of their class periods each week. John Chen, TK-12 vice principal, and Victoria Karsten, grades 7-12 registrar, were available as curriculum coaches to assist teachers as they created lessons. Stephanie Sarli, sixth-grade teacher at La Sierra Academy, guided her students as they studied George Washington Carver, Thurgood Marshall, Dr. Martin Luther King Jr., and Amanda Gorman. "As we studied each person's life, I asked the students to reflect on the characteristics of these men and women," said Sarli. "Students discussed how they could apply the same mindset as these activists in today's society."
As the month progressed, Valenzuela noticed that La Sierra Academy's proactive approach to honoring Black History Month caused students to discuss the issues. "Education was happening on every level," Valenzuela said. "We were all exposed to wonderful truths, and that has helped us to become better people and a stronger community."
Valenzuela pointed out the work of the "Taboo Team," a group of students who gather around social justice awareness. "Each week the team would post a one-minute talk on social media about a powerful and gifted African American," said Valenzuela. These talks joined the chapel and classroom experiences on LSA's social media to share with the wider community.
As Black History month drew to a close, Munoz-Beard expressed plans to use the same model to celebrate more students in the future. "La Sierra has a student body composed of many different ethnic groups, and we are looking forward to incorporating Latino and Asian heritage into our curriculum as well," Munoz-Beard said. "We want every child and family to feel comfortable and celebrated at La Sierra Academy."